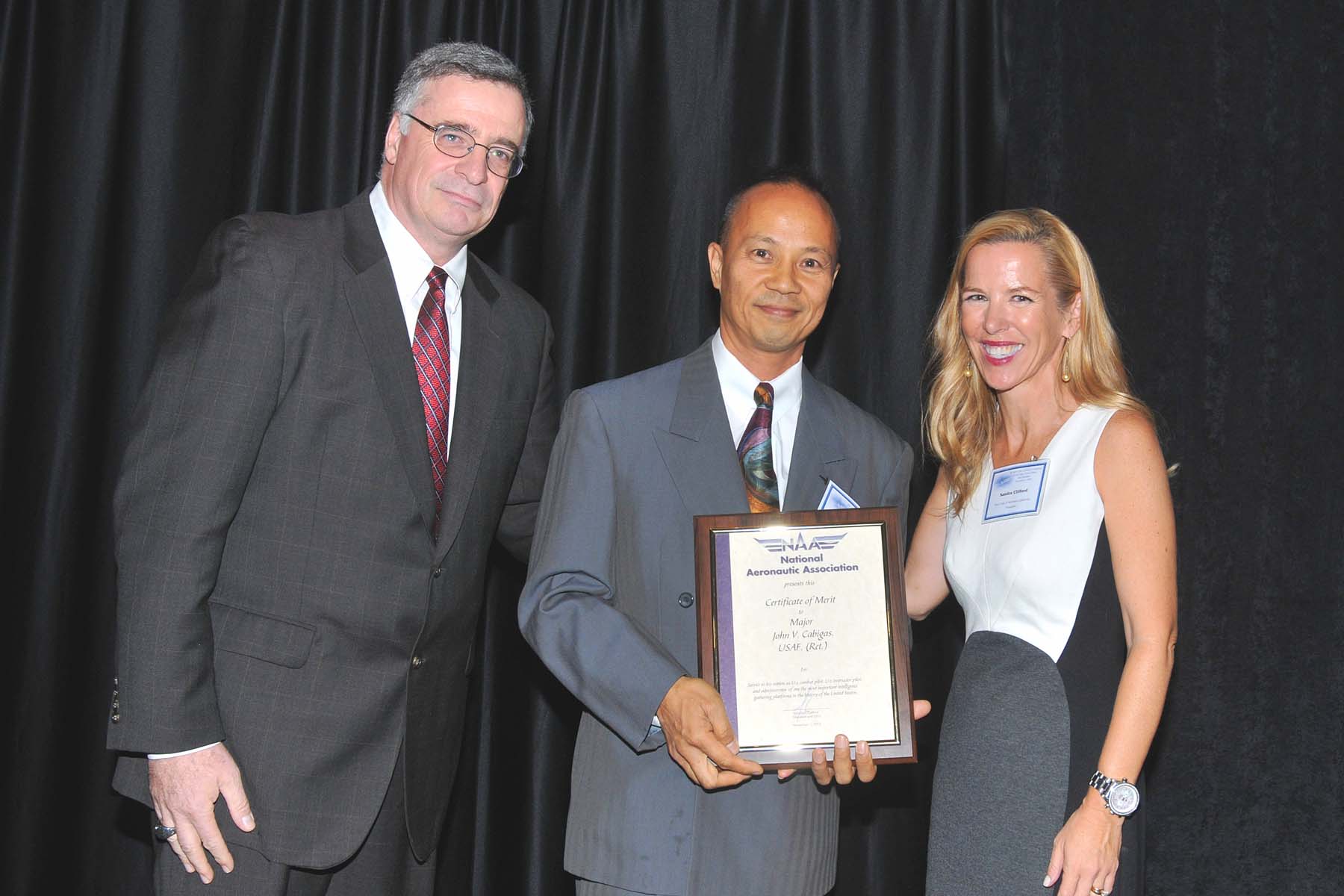 MAJOR JOHN V. CABIGAS
Major John V. Cabigas, USAF Retired, served his country during his Air Force career in the upper reaches of the atmosphere, the extraordinary world of U-2 flight.
Major Cabigas was born in Manila, Philippines in 1962, immigrating to San Jose, CA at the age of six.  He attended Independence High School, San Jose, CA, graduating in June 1980.  He attended San Jose State University where he was on the fencing team and attended USAF ROTC at Detachment O45.  He graduated in 1986 with a Bachelor of Science Degree in Aeronautics including a FAA mechanic Certification in Airframe and Powerplant.
He entered Air Force pilot training in 1986 at Vance Air Force Base, OK. After graduation, he was assigned as a T-37B instructor pilot at Vance AFB until October 1992.  Upon selection for a special duty assignment at Veale AFE, CA to fly the U-2 aircraft, the (now) Captain Cabigas became a high altitude combat mission pilot and tactics officer.
Captain Cabigas, newly assigned to the 99th Reconnaissance Squadron (99RS), participated in several notable operations to include Southern and Northern Watch (Iraq), Sable Games (S. Korea), Olive Harvest (Cyprus), Allied Force (Bosnia/Kosovo), Urban Fire (Haiti), as well as humanitarian mission such as the 1995 Mississippi river flood.
In 1996, Captain Cabigas was reassigned tot eh 1st Aero (Reconnaissance) Squadron (1 RS) as a two-seat TU-2S instructor pilot training new U-2 pilot recruits.  In 1998, Captain Cabigas became the second in command of the 9th Physiological Support Squadron as the Director of Operations and High Altitude Rated Physiologist.
Following the 9/11/01 terrorist attacks, (now) Major Cabigas returned to the 99RS as the Tactics Assistant Flight Commander/Combat Mission Pilot and served in Operation Enduring Freedom and Operation Iraqi Freedom (credited with 10 night combat missions).
Upon completion of Major Cabigas' 99 RS tour, he returned to the 1 RS to once again train new pilot recruits and served as the current Operations Flight Commander and Training Officer while maintain a dual-qualification in both the U-2S/TU-2S and the T-28A.  Major Cabigas also served as an Interviewee Acceptance Pilot, training and evaluating potential new pilot recruits for the U-2 Special Duty Assignment.
On December 1, 2010, Major Joh V. Cabigas retired from 24 years active duty, having spent 18 years in the U-2 program.  In all, Major Cabigas amassed 26 overseas deployments while supporting multiple USAF Operations.  He earned two meritorious Service medals, two Air Medals and five Aerial Achievement Medals, participating in all (U-2) USAF campaigns from 1992 through 2010.  Major Cabigas completed his flying service with 5,287 flying hours.
Mr John Cabigas currently still instructs new U-2 pilots administering all ground academics and simulator training as a civilian contractor to the USAF U-2 Program at Beale Air Force Base, CA.
Mr Cabigas is an active FAA Certified Flight Instructor hold Commercial and Airline Transport Pilot Certificates with multi-engine and instrument ratings.  He is an active EAA member and regularly volunteers during the EAA's Young Eagle flight awareness programs promoting aviation to young children.  John is also a Sutter county Sheriff's Aviation posse as well as the Sutter-Buttes Regional Aviation Association volunteer member.  John still maintains his flying currently in a Beechcraft Baron when he is not flying his personal 1940 J-3F-65 "Cub".