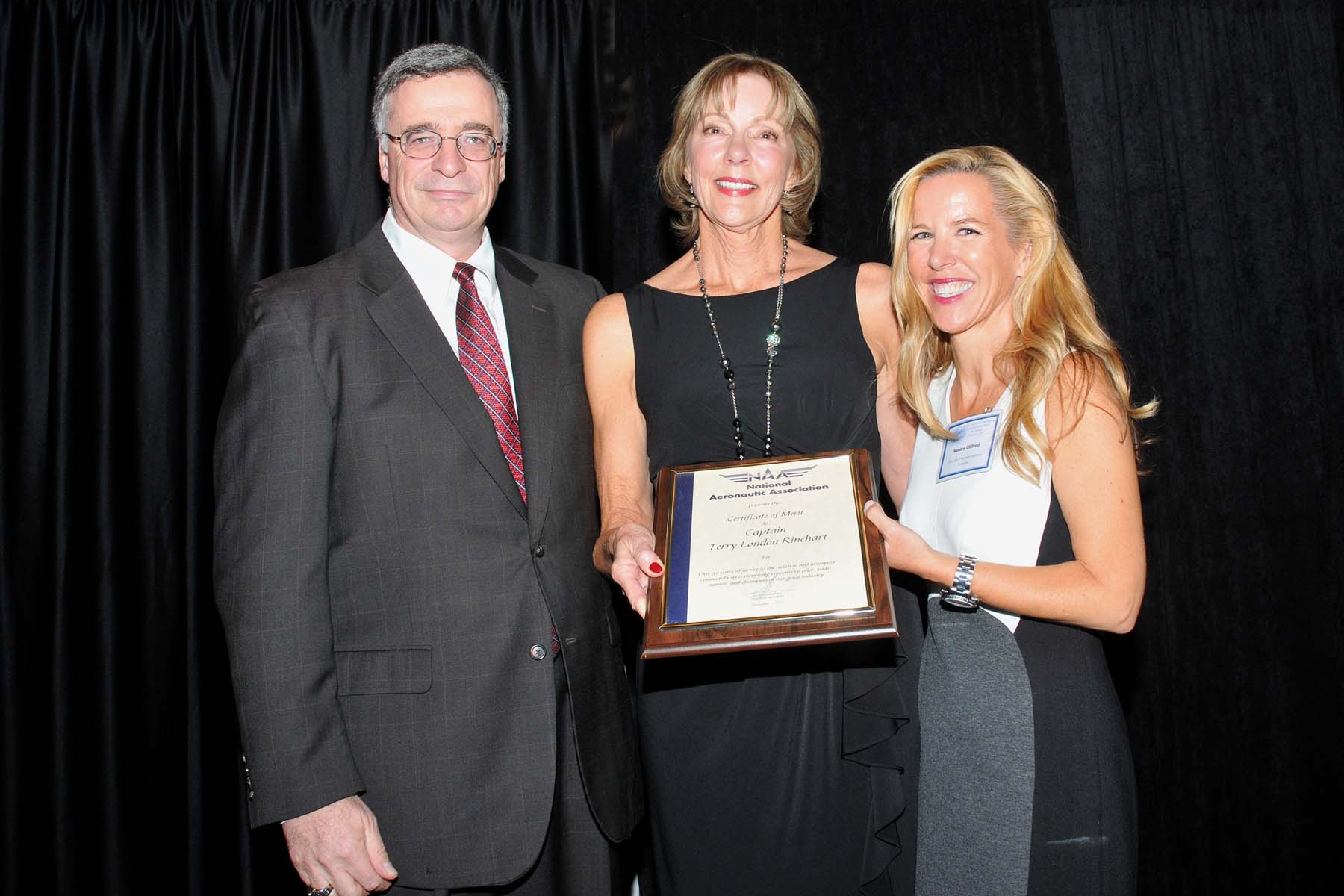 CAPTAIN TERRY LONDON RINEHART
In 1976, Captain Terry London Rinehart became the first woman employed as an airline transport pilot by Western Airlines, which was then merged with Delta Airlines. At that time, there were fewer than ten woman flying for the airlines in the United States. She initially flew Boeing 737s as First Officer, then upgraded to Captain and transitioned through these positions in Boeing 757's and 767's, steadily moving up the ranks in the manner of airline career progression. All this in the glare of "Oh Gosh, it's a woman!" pressures and publicity.
Captain Rinehart is the daughter of Barbara Erickson London and Colonel Jack London, an Army Air Corp pilot. During World War II, her mother served as the first commanding officer of the Women's Auxiliary Ferrying Squadron (WAFs), later know as the Women Air Force Service Pilots (WASPs) and as commanding officer of the 6th Ferrying Group.
Growing up in this accomplished aviation family, she followed their lead by working at such airport jobs as washing and fueling airplanes, sweeping hangars... and small job to earn flying time. AT age nineteen, she decided to become an airline pilot although at that time, no women were flying for major US airline companies, and there was no future as such in sight.
Pursuing her goal in professional aviation, she earned her Bachelor of Science Degree in Aeronautical Operations from San Jose State University while finishing her pilot ratings including her helicopter rating and flight instructor certificate and ratings. In 1973, the federal law changed to require nationwide the hiring of women and minorities. Now there was an opportunity for Terry to realize her dream, and she was ready after a lifetime of preparation.
Terry began her career with Western Airlines at the time when the industry was just entering turbulent times. I started with deregulation and the "hub" concept championed by Elizabeth Dole at DOT. Hijackings were increasing with regularity. Unrest was occurring within FAA Air Traffic, and the controller strike of 1981 was looming. FAA regulatory changes were coming thick and fast, and airline mergers were underway. Then came the bankruptcies. The future of the airline pilots in all this was at best uncertain.
As the industry itself was struggling, the catastrophic terrorist attack on 9/11/01 occurred, further devastating the airlines. Little has been said of the effect on the fight crews who would now scrutinize the passengers and wonder which of all those passengers boarding the flight were planning to storm the cockpit and slit their throats. Now, the pilot concerns were escalated far beyond weather, equipment failures and pressures to "be on time". It was now a question of ensuring a safe flight when their lives were at stake in a wholly different way than every before. For Terry and her husband Bob, A Captain on United Airlines, as they went to work three days after the attach when the airlines were again allowed to fly, it was a changed world. The terrorist war had now been taken aloft, using airliners as the weapon of choice.
During this time, Terry and Bob were also raising a third generation aviation family with son Justin and daughters Lauren and Kelly, unique in having both parents as major airline captains. Terry had introduced the airline industry to yet another "first", that of motherhood for women airline pilots!
As she balanced her professional life with her personal life with her usual dedication and common sense, she proved to the airlines that women pilots could have a normal family life and a successful airline career as well as their male pilots. This in itself was no mean feat with the relentless demands of the airline even under normal years.
Following her retirement from Delta, Terry became a corporate pilot flying worldwide operations, again the sole women in the intensely demanding corporate environment. Again, Terry with her quietly professional leadership has consistently set the standard of excellence and competency in all avenues for both women and men alike. Upon retirement from her last corporate flight, Terry was welcomed home by the fire trucks' rainbow spray of water over her aircraft, so highly is she revered.
Terry and Bob have three children, each in aviation: Justin Rinehart is a Regional Airline pilot, Kelly Rinehart is a Corporate Pilot, Lauren Rinehart is a pilot.