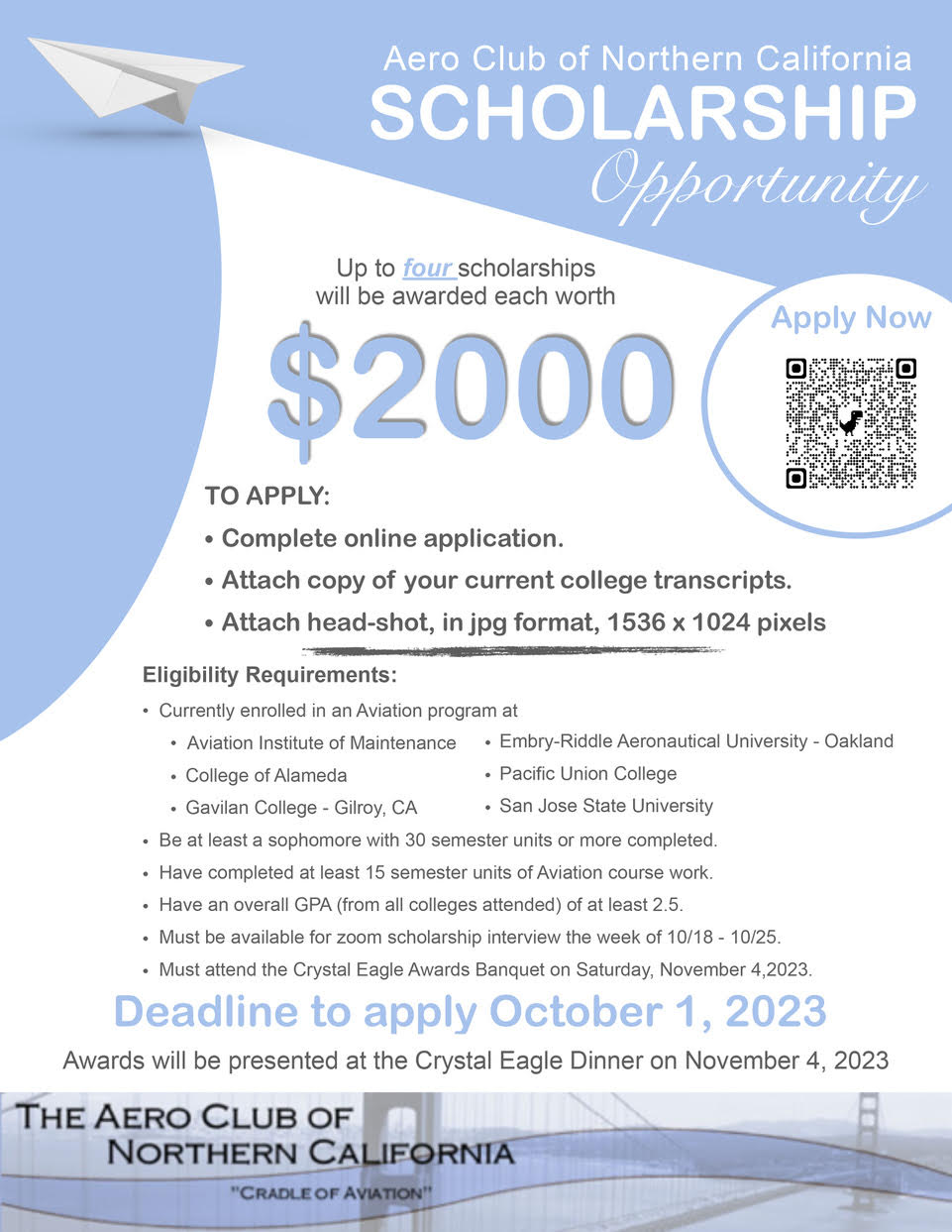 Congratulations to the Aero Club of Northern California
2022 Scholarship Winners!
Since 1985, the Aero Club of Northern California has annually provided scholarships to students actively studying aviation at various Northern California colleges.
In 2022, through our Aero Club Members' generous support, we can continue this yearly tradition.
This year's ceremony will be at the Hiller Aviation Museum, and we hope you'll join us as we celebrate these incredible students and their achievements!
Thank you for supporting our mission of encouraging the next generation of aviation professionals!
We couldn't have done it without you.
Crystal Eagle Awards and Scholarship Dinner
When:
Saturday, 11/12/2022
Where:
Hiller Aviation Museum
2022 Robert L. Hamilton Scholarship Recipient
My name is William Longthorne III, I am a senior at San Jose State University. I am majoring in Aviation under the option of Professional Flight.
I am planning on graduating next semester in Spring 2023. I currently work at Aviation Safety Reporting System, a NASA funded project, where I have been employed as an assistant analyst.
I plan on staying local in the San Jose area so I am able to help instruct future pilots including SJSU students and alumni. This scholarship is incredibly important to me as I am finishing my commercial license, as without it I would more than likely have had to take a break in my flight training due to financial concerns.
2022 Thomas E. Leonard Scholarship Recipient
Hello! My name is John Wallace Borden IV and I am a 4th year currently attending San Jose State University studying Aviation Operations.
I am planned to graduate this coming Spring 2023 in aspiration to become a commercial airline pilot. I am currently working for NASA! Well, a branch directed under NASA known as Delta ASRS (Aviation Safety and Reporting Systems).
After I graduate, I plan to continue my current training and proceed further in acquiring my license and potentially apply to work for FlyBay Area while being a CFI. As I am studying for my Instrument, I plan to utilize this money to help diminish the financial burden this flight training normally comes with!
However, in the end as we known, it is all very well worth it! I am so thankful for this opportunity given to me and hope to meet many new people I can make ever lasting connections with that will help me proceed further toward a successful future.
The support from this scholarship will be extremely beneficial to me as it will be going directly toward a cause that will allow me to proceed further for toward my ultimate goal. Not to mention the amazing support and motivation from my parents that I am so deeply grateful for.
Thank you again everyone! For all that you have done for me and allowing me to get to this single milestone in my life with many more to closely to follow!
2022 James M. Nissen Scholarship Recipient
Joseph Edwards is a Senior at San Jose State University pursuing a degree in Aviation.
He is hoping to become a professional pilot. He is married and has a daughter. He discovered aviation through his grandfather.
He discovered the importance of safety through his mother, who was paralyzed from a general aviation accident before he was born. He has his single engine land certificate, a commercial UAS certificate.
With this scholarship and working as a remote pilot, he is planning on finishing both an instrument rating and Commercial airplane certificate.
2022 Changing the World Scholarship Recipient
My name is Tram Do. I am attending San Jose State University (SJSU) and majoring in Aviation Flight Operations. I plan on graduating Spring of 2024.
I currently participate in the SJSU College Corps program, where I do volunteer work focusing on food security issues and helping 5th graders learn computer science. For club activities, I am the Vice President of the Women in Aviation SJSU chapter and pledging for Alpha Eta Rho, a business aviation fraternity.
I am working towards my private pilot license at Squadron 2 out of Reid Hillview airport. I recently soloed and am now working on the cross-country part of flight training. I want to get my commercial, multi-engine, and certified flight instructor (CFI) certification to improve my knowledge about aviation and flying. After being a CFI, I want to either fly corporate or airlines. Through my knowledge of aviation, I will share my knowledge and help others.
I want to inspire and encourage women and minorities to pursue aviation careers. The scholarship from Aero Club Norcal will allow me to relieve some financial stress in financing my flight training. At the same time, I get to immerse more in college education, private pilot training, and events in the aviation community.
PLEASE DONATE to the ACNC Scholarship fund benefiting local aviation students (click here)
Connect with us on social media!
Pam Svrdlin - President, Aero Club of Northern California
Michelle Tripp - Vice-President, Aero Club of Northern California